Top PA Betting Apps
DraftKings Sportsbook App - Best App for Overall Betting Experience
In virtually every state that has made sports betting legal, you will find the DraftKings sportsbook at or near the top of the table for monthly handle.
This is no coincidence; DraftKings was the first brand to embrace the potential of mobile game play as part of its Daily Fantasy Sports offering in 2012, and it has leveraged all that experience to create a superlative sports betting app.
This app is a joy to use, and the betting markets, offers and features are delivered in a smooth, slick package. Check out our DraftKings Sportsbook PA Review to learn more.
FanDuel Sportsbook App - Best for Betting on Big Games
Vying with DraftKings for supremacy in the online sportsbook battle is its old DFS adversary - and the FanDuel sportsbook is more often than not the absolute number one in any state in terms of handle and revenue.
The FanDuel sportsbook offers a superlative all-round service, and it comes into its own when the big sports events roll around.
You can expect a host of wagering options, live streaming where possible, and plenty of in-game bets - the FanDuel sportsbook is particularly good for same-game parlays. Check out our FanDuel Sportsbook PA Review for more information.
Caesars Sportsbook App - Best for Welcome Bonuses
Caesars takes a brash, bold approach to market its online sports betting services. One of the ways in which it is determined to stand out from the crowd is by making its sign-up bonus for new customers just that little bit more attractive than its rivals' promos. Currently, the operator has a bet/get promotion for new customers. How do you claim it? Sign up, make a deposit and then place a wager of $10 or more. You'll get $1000 in bonus bets in return, regardless of the outcome of the bet.
Our Caesars Sportsbook PA review has more information about the promotion.
Betway Sportsbook App - Best for Competitive Odds
For the more experienced and dedicated Pennsylvania betting apps customer, the betting odds offered about the wager you want to place are a crucial consideration in deciding where to play.
All Pennsylvania sportsbook apps pay attention to their betting odds and like to claim they are at the front of the field. But the Betway sportsbook is particularly adept at delivering great value to its customers through its betting app.
BetRivers Sportsbook App - Best for Player Rewards
Once you have registered for an account, your chosen Pennsylvania betting apps should recognize your loyalty through a rewards program or a VIP scheme.
There are many excellent programs on offer to Pennsylvania sports betting patrons, but we reckon BetRivers narrowly wins this particular argument thanks to the quality and user-friendly flexibility of its iRush Rewards program. For more information visit our BetRivers Sportsbook PA Review.
Top Reviewed PA Betting Apps in The App Store
FanDuel Sportsbook App

The FanDuel sportsbook delivers a magnificent service that helps to explain its perennial popularity with sports-wagering enthusiasts. It currently scores 4.8/5 among visitors to the App Store - where it has been reviewed 690,000 times - and 4.7 at the Google Play Store.

DraftKings Sportsbook App

The mobile betting service from the DraftKings sportsbook is so good that it is widely regarded as the all-round best sports betting app. As a result, its iOS version is rated at 4.8/5 by nearly 400,000 reviewers, while the Android version scores 4.6.

BetMGM Sportsbook App

BetMGM is a brand that has moved fast to claim a place among the leading online sportsbooks, a process that has been helped by the quality of its mobile offering. This is rated at 4.8/5 by more than 114,000 App Store visitors, and at 4.4 at the Google Play Store.
Visit BetMGM.com for T&Cs. Must be 21+. PA Only. New Customer Offer. All promotions are subject to qualification and eligibility requirements. Rewards issued as non-withdrawable bonus bets. Bonus bets expire in 7 days from issuance. If you or someone you know has a Gambling Problem, help is available, Call 1-800-GAMBLER.
Best Sports Betting App for Frequent Updates
The best online sports betting companies never rest on their laurels. No matter how good your mobile sports betting offering is, it can always be made better. The leading PA sports betting apps are updated regularly - some more frequently than others.
FanDuel Sportsbook App

The FanDuel sportsbook app was updated no fewer than 10 times in the four months after the midpoint of 2022. Most of these updates are related to the new Search feature that helps you to find sports, players, and upcoming games - and to locate your chosen bets faster.

BetRivers Sportsbook App

These two brands are from the same stable, and both have a partnership with a PA Rivers casino. Their PA betting apps were both updated nine times in the four months after mid-2022. In all instances, these were bug fixes and general performance improvements.

PointsBet Sportsbook App

The PointsBet mobile offering is one of the most highly rated betting apps in PA, and one reason is the frequency with which it is updated. There have been seven updates since mid-2022, introducing and refining a host of features including NFL same-game parlays, Power Hour promos, and Lightning Bets.
Sports Streaming on PA Betting Apps
One of the ways in which Pennsylvania betting apps are bringing an even more immersive service to players is through live streaming.
It adds significantly to the experience of sports wagering if you can follow the fortunes of your selection as a game plays out - either through a graphic animation or with live video pictures.
Many leading online sportsbooks are gradually increasing the number of events that are available for live betting and streaming - both through websites and PA betting apps.
Want to follow the Pittsburgh Steelers game that you placed a bet on? With an online sportsbook that offers live streaming, you may be able to. This is a great feature for patrons to enjoy that brings you closer to your favorite action while you are betting on it.
PA Betting App With The Best Customer Service

The best sports betting apps offer great customer support options as part of the service. Most Pennsylvania sportsbooks score well for this, but the Caesars sportsbook comes out on top of the pile. You have the option to speak to an expert on a toll-free telephone number, there is a live chat function available on the betting app as well as the website, and there is an email address for less urgent inquiries, as well as in-depth Pennsylvania sports betting FAQs in the help center.

PA Betting App With The Best Prop Bet

Proposition bets are a great way to get involved in a sports event without betting on the result. Maybe you don't have a strong opinion either way about who is going to win, or there may be a particular aspect of the action that you want to focus on, such as an individual player's performance. For instance, you could place an over/under bet on the total number of saves the Philadelphia Flyers' Carter Hart will make in a game. Every PA online sportsbook offers a host of prop bets on the top action. But the FOX Bet sportsbook brings a particularly ingenious twist to its range of betting markets. FOX Bet is, of course, part of the FOX Sports empire - and many of the presenters and guests on FOX Sports' TV coverage have strong opinions about upcoming games. FOX Bet allows you to agree or disagree with their experts by turning those opinions into prop bets. It's a great idea and one that enables FOX Bet to stand out from the crowded Pennsylvania sports betting app market.

Best Sports Betting App for In Game Betting

The ability to enjoy online sports betting after a game has started is one of the best innovations to arrive in the sports betting industry in recent decades. Developments in digital technology enable online sportsbooks to update their odds instantly - and as a result, they are at liberty to offer in-play wagers while the action is taking place. Virtually all PA sports betting apps offer you the opportunity to enjoy live betting, but some have a particularly keen focus on in-play markets. One of these is the Unibet sportsbook, which leverages its long expertise in European wagering to deliver an awesome range of live sports betting opportunities. Check out the Unibet sportsbook betting app, and you will find two sections dedicated to in-play sports betting. One is labeled Right Now, the other Starting Soon - and the latter even breaks down the upcoming 24 hours so you can plan your bets in detail. The Unibet sportsbook betting app backs up this offering with excellent functionality and extremely competitive odds, making it an ideal destination for the in-game sports betting fan.
Best Legal PA Betting Apps For Each Sport
Below we highlight the best PA sportsbook apps for your favorite sports. If you have one sport you love more than the rest, you might consider picking the PA betting app best suited for that sport.

Best NFL Betting App: FanDuel Sportsbook
All Pennsylvania sports betting apps have a strong football offering. This is the top sport for sports betting across the United States, and Pennsylvania is home to two NFL teams, the Pittsburgh Steelers and Philadelphia Eagles.
The FanDuel sportsbook's NFL offering is outstanding, with a host of sports betting options every time the Pittsburgh Steelers or the Philadelphia Eagles are in action. That is backed up by the outstanding functionality that comes as standard with FanDuel.

Best NBA Betting App: DraftKings Sportsbook
Pennsylvania is home to hordes of hoops fans, most of whom pull for the Philadelphia 76ers. Basketball lends itself well to sports betting, and there are a host of ways in which you can stake money on the best NBA action.
In a highly competitive field, the all-round excellence of the DraftKings sportsbook gives it the edge for basketball wagering. As well as extensive lines, spreads, and props, there are plenty of futures markets too - and an outstanding in-game sports betting service.
Best MLB Betting App: BetMGM Sportsbook
Baseball features prominently on all PA betting apps, not least because the state is home to two MLB sides, the Philadelphia Phillies and the Pittsburgh Pirates.
The BetMGM sportsbook is an official betting partner of both teams, which means it goes above and beyond to be ranked among the best PA sports betting apps for baseball. It achieves this with a host of sports betting opportunities and related content.

Best NHL Betting App: BetRivers Sportsbook
Hockey fans in Pennsylvania have two NHL teams to choose between. Supporters in the west of the state lean towards the Pittsburgh Penguins, while those in the east tend to pull for the Philadelphia Flyers.
BetRivers' parent company owns a casino in each city, which may help to explain why this sportsbook is so strong on hockey. It delivers an extensive choice of lines, spreads and in-play options whenever the Flyers or the Penguins play.
College Betting App: FOX Bet Sportsbook
There are few restrictions on betting on college sports. You can wager on Pennsylvania college sports teams such as the Villanova Wildcats and the Temple Owls in basketball, or Penn State or Pittsburgh's football sides. However, individual player props are not allowed.
All Pennsylvania sportsbook apps carry plenty of college betting markets, but the FOX Bet sportsbook has a particularly impressive focus on top NCAA action.
Horse Racing App: PABets/FanDuel
There are several active racetracks in Pennsylvania and they include the Penn National Race Course, where you can also play at the Hollywood Casino, part of the Penn National Gaming empire.
The best app dedicated to horse racing is PABets, the Pennsylvania branch of online racing betting giant TVG. However, this app is available only on iOS devices. FanDuel is now the owner of TVG - and it has developed an impressive racebook that can be accessed for mobile sports betting whatever device you own.
What to Look For in Legal PA Betting Apps
How do you know what to take in to consideration when picking a PA sportsbook app to use? Below we highlight some important features to consider when deciding which PA sportsbook app is best for you.
Bonus Bets
When choosing a PA sports betting app, it's essential to consider bonus bets offered. These bonuses, including welcome offers and no deposit bonuses, can significantly enhance your betting experience. Look for online sportsbook apps that provide generous bonus bets. By considering these factors, you can find a PA sports betting app that offers rewarding bonus bets, enhancing your chances of maximizing winnings and enjoying a comprehensive betting experience.
Mobile Speed
Many key factors contribute to an outstanding mobile sports betting experience - but this may be the most crucial. It is essential that your chosen PA betting apps deliver information and updates as fast as possible.
The best PA online sports betting operators go to great lengths to deliver their betting lines as quickly as possible to ensure that your sports-wagering experience is as hitch-free as it can be.
Frequent App Updates
Even the best PA betting apps need constant maintenance, and they should be updated regularly to fix maintenance issues and introduce new functionality.
The top Pennsylvania sports betting apps will be updated several times a year, ideally more than once a month, to guarantee that you are receiving their most polished service.
Exclusive App-Only Promotions
It's great to know when you are using your mobile device to access sports betting sites that you are not missing out on any of the features, bonuses, or bet credit available to desktop users.
However, it's even better when your online betting operator delivers PA sports betting promotions that can be accessed only by players who have downloaded the mobile app. The increasing popularity of mobile sports betting ensures that app-only promos will become ever more prevalent in the future.
Sports Betting App Security
You want to enjoy online sports betting through Pennsylvania sportsbook apps with complete peace of mind and confidence that all your data and transactions are protected.
Every online sportsbook licensed by the Pennsylvania Gaming Control Board should have the very latest security systems in place, such as end-to-end encryption, to guarantee that peace of mind.
Positive App Reviews
Pennsylvania sports bettors have an extensive choice of PA sports betting sites and apps. That means there is plenty of opportunity to access the thoughts of people who have used those same betting apps in PA before.
Check out websites, including app stores, that carry extensive reviews of PA betting apps. You can also consult our operator reviews to see how positively we regard the mobile sports betting service on offer through the app in question.
Incredible Betting App Interface
This really does matter. No matter how quickly your online sportsbook delivers information to its sports betting app, you need to feel comfortable with the way that data is presented.
The best online sports betting providers carry plenty of information but design their apps so that it is easy to find what you are looking for. You should be able to navigate intuitively from page to page so that you can track down your chosen bets quickly and easily.
Flexible Payment Options
There are many different ways of moving money around for online sports betting. The best Pennsylvania sportsbooks will offer a variety of payment options, but it is highly advisable to check that your preferred banking method can be used.
You should also be certain that the withdrawal method you favor can be used so that you can take your sports betting winnings out of your account without any problems.
Sportsbook Customer Service
When you need to contact your preferred online sports betting sites for any reason, you hope that your query or complaint will be addressed as quickly as possible.
The best PA sports betting operators understand this and cater to their patrons' needs by offering services such as toll-free telephone numbers and 24/7 live chat functions, as well as an email address and a wealth of useful information in the form of an FAQ page.
Pennsylvania Sports Betting Apps vs Online Sportsbooks
However you want to engage with the Pennsylvania sports betting scene, there are plenty of options available. But how does wagering through PA sports betting apps compare to the experience with online sportsbooks and retail sports betting?
Using a Mobile Sportsbook App
The main reason for accessing Pennsylvania sportsbooks through mobile betting apps is convenience. Wherever you are - at work, at home, on the move, or even at the game - if you have a signal, you can swiftly call up your favorite sports betting app and find a wager.
Once you have downloaded your chosen betting app, you should be able to access the betting markets you want as quickly as an online sports betting website. Even if don't want to download an app, many Pennsylvania sportsbooks are designed so that sports bettors can access them through a web browser on a mobile device.
There is a big difference in screen size. By definition, a mobile device will have less real estate than a desktop computer. But the best online sports betting operators have become extremely adept at fitting in plenty of information on a mobile screen.
Online sports betting sites and PA betting apps are both much easier to access than retail sportsbooks. To use the latter, you need to travel to premises licensed by the Pennsylvania Gaming Control Board to take sports bets. Depending on your location, that journey could be a long one.
If you decide to do most of your betting through Pennsylvania sportsbook apps, you will be able to find them at the app store related to your mobile device. Virtually all cell phones across the world are now iOS devices or Androids.
Betting With iOS Mobile Devices
If you are the owner of an iPhone or other iOS device, finding your favorite online sports betting app is straightforward. Simply navigate your way to the Apple Store, and search for your app.
Once you have located it, you will be able to download it to your device and sign in - or sign up for an account if you are a new customer.
Most iOS apps are fitted with geo-location technology to ensure that you are within state lines, and therefore on licensed territory, before you can place any wagers.
Betting With Android Sports Betting Apps
Owners of Android devices will be able to find PA sports betting apps at the Google Play Store. In the past, you often had to visit your chosen operator's website and access an APK (Android Package Kit) to be able to download the app from the store.
However, increasing numbers of operators now make it possible for you to download it directly after finding it at the Google Play Store.
When the app is installed on your device, it should incorporate geo-location technology to prove automatically that you are within the borders of the state.
Reasons to Use PA Betting Apps
Some of you might be used to using Pennsylvania sportsbooks in person or on your desktop. Below we highlight why PA sportsbook apps could be a better option for you.
Usability
The companies providing Pennsylvania sports betting sites and apps spend enormous amounts of time and money creating intuitive user interfaces that make wagering through your mobile device incredibly easy.
The sheer ease with which you can open your app, find your way to the event you want to bet on, and place that bet, has rendered the business of sports betting unrecognizable to older generations of sports-wagering aficionados.
Once you find a sports betting app that works for you, and become accustomed to the ease of wagering on it, it is very hard to contemplate going back to the old ways!
Accessible Sports Wagering
Long gone are the days when, to bet on sports, you had to travel to licensed premises and fill out your betslip with a pen before handing it to a member of staff to process.
The advent of Pennsylvania betting apps means that you can place that same wager without leaving your home, or even your chair. That incredible level of convenience applies wherever you are.
If you are relaxing in a bar, or even in the bleachers watching the game you want to bet on, you can do it. The new generation of PA sports betting apps has revolutionized the industry by making wagering platforms so much more accessible.
Account Funding is Easier
Moving money around is so much easier than it used to be. And that definitely applies to the world of gambling on sports.
Most mobile phones have virtual or e-wallets built in, and many PA sports betting apps allow you to fund your account using such facilities.
This means you can deposit money in your account, and withdraw your sports betting winnings, without needing to travel to your bank or send a check in the mail. Such an easy way of funding your wagering makes mobile sports betting even more enticing.
How to Download a Sports Betting App
Choosing to wager through Pennsylvania sports betting apps is all about making the process easier - and that also applies to the process of installing one on your mobile device. There are just a few simple steps to follow:
Choose a PA sports betting app where you believe you will enjoy playing
You may be able to click through to your app store from the operator's website
Alternatively, go straight to the app store appropriate to your device
Search for the online sportsbook app you want
Click on it to download - it should appear on your device very shortly
You are now ready to sign into your account - or open a new one - and start betting
How to Sign up And Place a Sports Bet on a Mobile App
The process of registering for an account and placing your first bet could hardly be easier. Once the app is downloaded to your device, follow these steps:
Find the Sign Up, Join Now, or Register button on the home screen and click on it
You will be asked to provide your name, address, and date of birth
You should also submit your email address and create a username and password
You may have to supply the last four digits of your Social Security number
Agree to the terms and conditions and your account is ready to use
Now make your first deposit to fund your account
Make sure you activate - and use - your welcome bonus such as a deposit match or bet credit
Enjoy the experience of PA online sports betting through your mobile device!
Are Pennsylvania Sports Betting Apps Legal?
Pennsylvania online sports betting (and wagering through PA betting apps) has been legal in Pennsylvania since 2017. Retail sports betting went live in 2018, and the first online betting operators in the state commenced operations in May 2019.
Pennsylvania made its move to legalize sports betting in anticipation of the ruling by the US Supreme Court in 2018 that the Professional and Amateur Sports Protection Act (PASPA) was unconstitutional.
The Pennsylvania Gaming Control Board moved with admirable alacrity to launch a legal and licensed sports betting scene in the Keystone State.
Every operator that wishes to engage in Pennsylvania online sports betting, and to launch a mobile sports betting app, needs to follow the strict legal guidelines laid down under Pennsylvania sports betting law.
You may be able to access websites and apps offered by unlicensed operators based outside Pennsylvania. However, we strongly advise against this; and, given the quality of PA sports betting apps and the numerous betting options they offer, why would you want to?
Get Started Betting at Pennsylvania Betting Apps
By now, you should have a thorough understanding of Pennsylvania online sports betting apps and how to use them.
This is a state that loves its sports and relishes the opportunity to wager on the many Pennsylvania professional sports teams - such as the Philadelphia Eagles and the Pittsburgh Steelers, both NFL household names - that call the Keystone State home.
The range of Pennsylvania betting apps available includes products from the nation's leading online betting operators. They include big names such as FanDuel, DraftKings, and BetMGM, as well as impressive challenger brands such as Unibet and FOX Bet.
In short, there are numerous online betting options available when you want to enjoy sports wagering through PA sports betting apps on your mobile device.
The lucrative and competitive nature of the sports betting market here ensures the quality of the apps will rise inexorably, making wagering through PA betting apps ever more enjoyable as time goes by.
Responsible Gaming on Pennsylvania Sports Betting Apps
On the home screen of all PA sports betting apps licensed by the Pennsylvania Gaming Control Board, you will find a link labeled RG or Responsible Gambling.
It is only right that all legal sports betting operators should make it a duty to encourage their customers to gamble responsibly. For most patrons, betting on sports is a safe, relaxing and enjoyable pastime; but for a small minority, it can lead to addiction.
You should find, under the RG link, detailed information about how to keep your sports betting under control - and what to do if you are worried that this is no longer the case.
As well as advice about self-exclusion, wagering limits and much more, operators should also provide links to expert agencies that can deliver assistance and practical support.
Pennsylvania Sports Betting App FAQs
Yes, online sportsbook apps have been legal in Pennsylvania since the law was changed in 2017 and the market launched in 2019. All legal operators here are licensed by the Pennsylvania Gaming Control Board.
All licensed Pennsylvania betting apps are supplied by reputable companies that value their reputation and the safety of their customers. As a result, they employ sophisticated security techniques to protect your personal and financial data safe while you use PA betting apps.
Yes, it does - and it is one of the best PA sports betting options available to mobile customers. FOX Bet's mobile sports betting app went live in September 2019 and it has built a good reputation, particularly for ingenious prop bets and college sports betting.
Yes, they do. It would be extremely difficult for any brand to survive in such a competitive marketplace without enabling mobile betting, so all licensed operators here make their markets available through mobile apps.
Author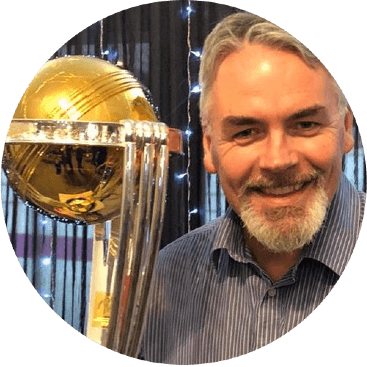 Award-winning contributor covering sports betting and casino gaming around the world for decades, Martin Booth is one of the most trusted voices in online gambling. From legislative updates in Pennsylvania to breaking down the top betting apps in PA, Martin covers a gambit of topics for BetPennsylvania.com.